The best street food in Asia?
Our first night in George Town was a bit of a disappointment. We headed out full of excitement to explore the food capital of Malaysia. We ended up with one small plate of noodles that we ate as quickly as we could while a drink vendor shouted at us. There was a lot to learn!
After some research that night we learned a few crucial things:
Unlike in Thailand, the tables and chairs in hawker centres are owned by drinks vendors rather than the food stalls. You can sit anywhere while you eat from the stalls as long as you buy a drink when they approach you. They don't always have bottled drinks at smaller places, but will have a variety of juices, iced coffee and tea.
After you've chosen what you'd like to eat, place your order at the stall(s) and let them know where you're sitting. Once the food is ready they'll bring it to your table and you can pay.
Most stalls will have options for different portion sizes. You will be given small if you don't specify the size, so just ask for large if you'd like a bigger meal or order small plates at a few different stalls.
Hygiene standards are high at Malaysian hawker centres, so even if you're wary of street food, you can tuck in without worrying here.
Day two was a different story, we dived straight into the hawker centres with our newfound knowledge and the rest of our time in George Town was a non-stop food fest.
Gurney Drive
Gurney Drive is the most famous hawker centre on the island and all of Penang's delicacies can be found here. It stays open late into the night, but it's best to get there early if you want a seat because even though it's huge, it fills up quickly.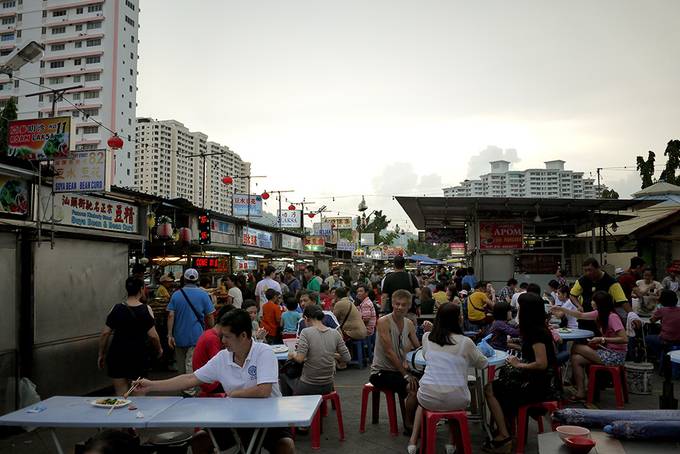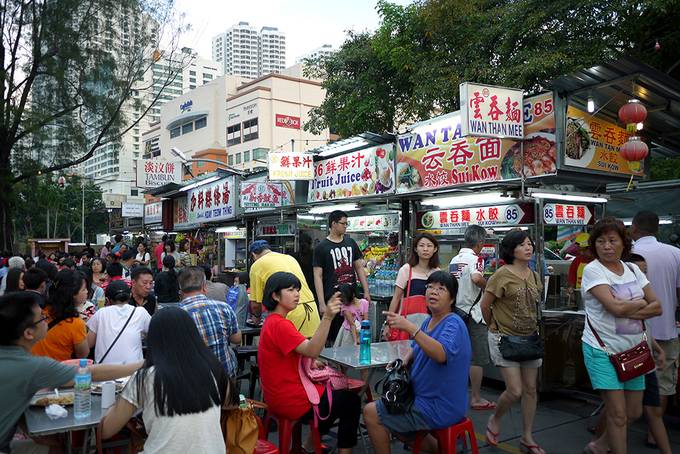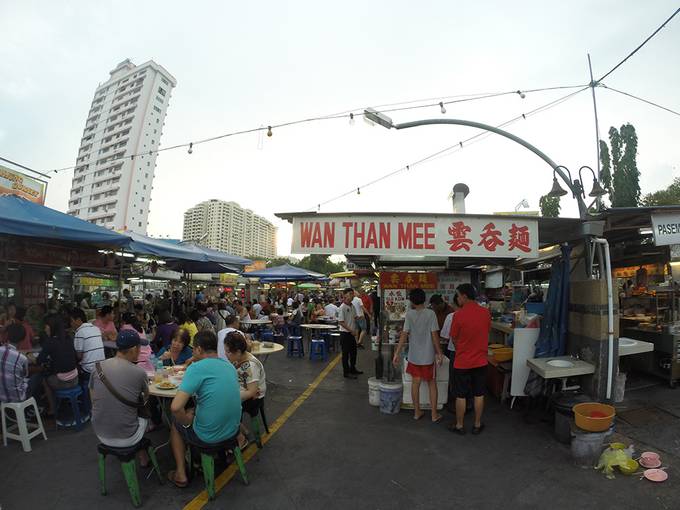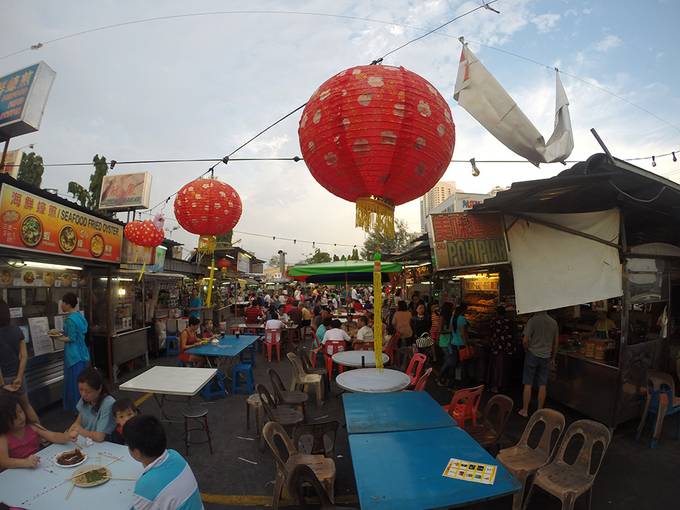 We ate asam laksa here, a sour fish noodle soup. Stall 73 is the best place to get it from, and we were blown away by how light and fresh it was. We were too busy devouring our soup to take a photo, but below are the lovely chefs.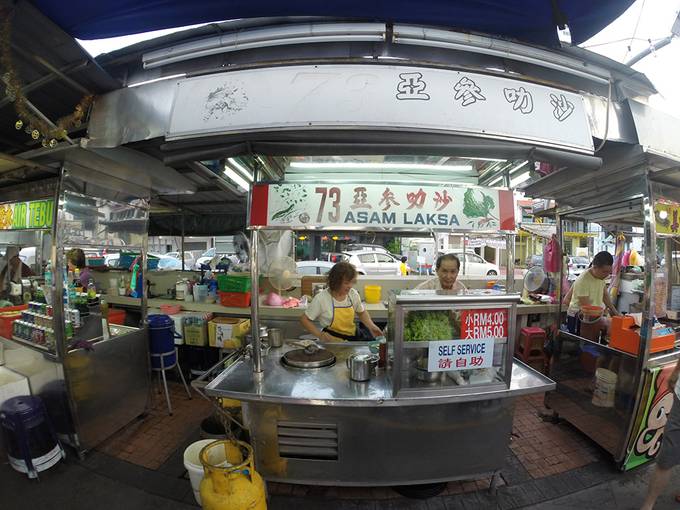 Kimberley Street
These street stalls were just a couple of blocks away from our hotel so we ate here a lot. It's smaller than some of the other hawker centres, but there's plenty of choice, lots of tables and it's insanely cheap. Many of the stall owners are second- or third-generation hawkers and the family recipes they use have been passed down for over 60 years.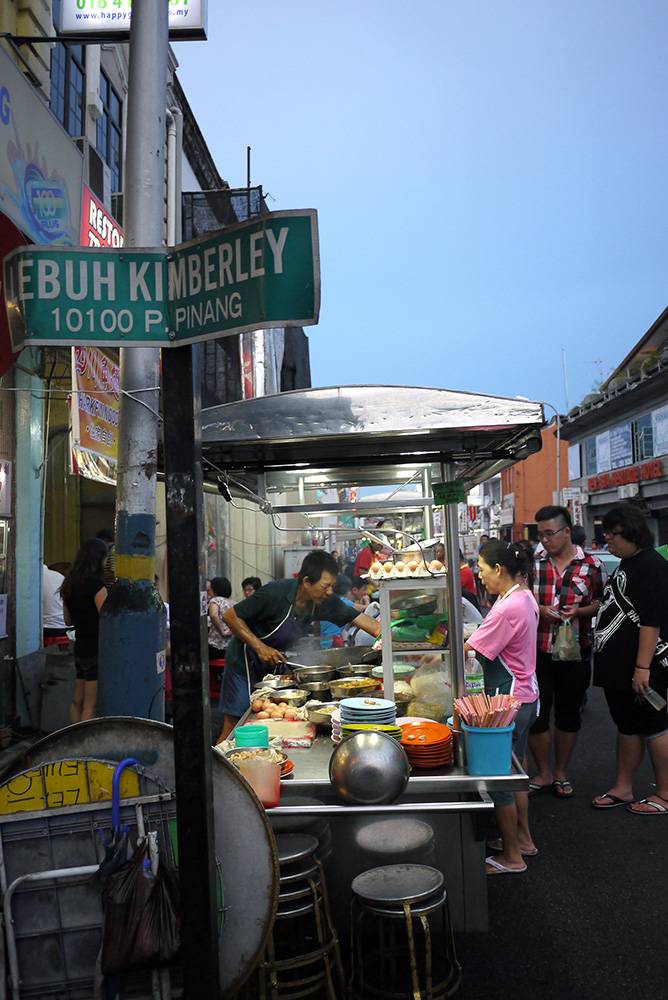 The char koay teow stall here is considered to be one of the best in George Town. Char koay teow is Penang's most popular dish, stir-fried rice noodles with prawns, cockles, beansprouts and soy sauce.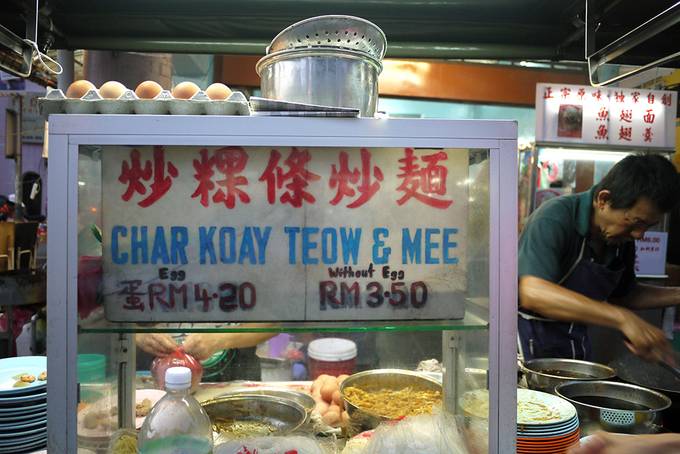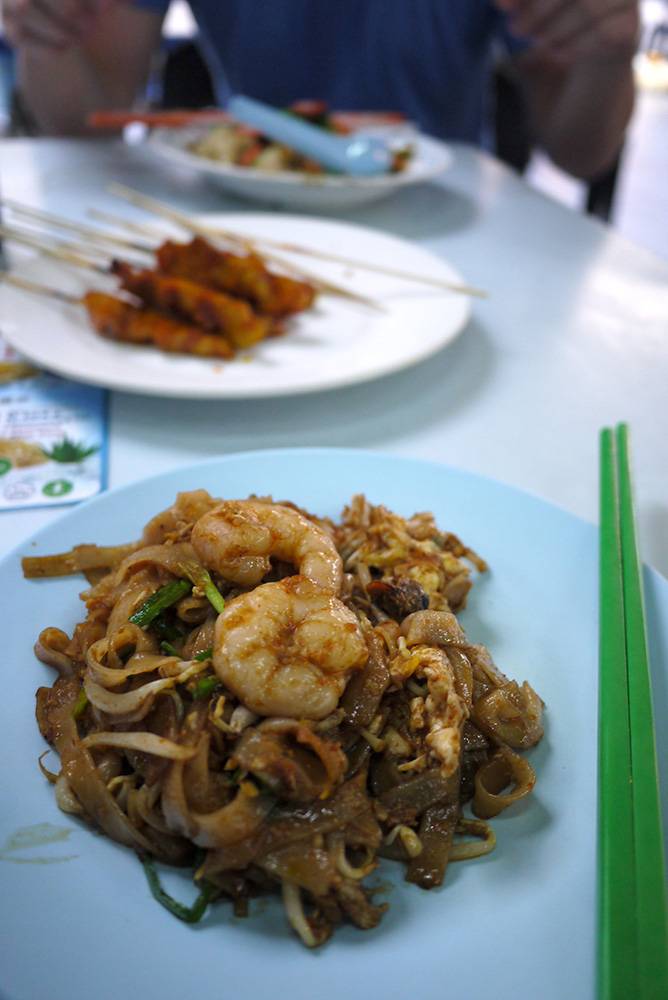 Our usual dinners would include a small dish each from the stalls and then some satay to share. To be honest, we haven't had any satay that we haven't loved yet, but the sauce at the Kimberley Street stall was especially good.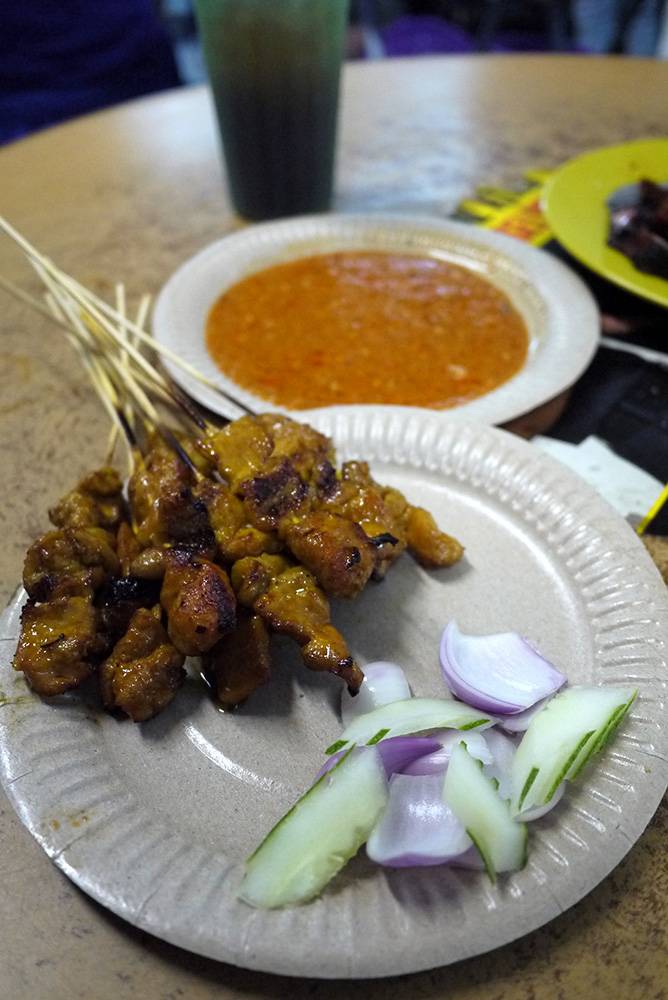 Transfer Road
Ok, this isn't really a hawker centre, there's just one stall, but it's a good one! Roti Canai Transfer Road is considered to be the best roti canai in the world, and although I'm no expert, it's hard to imagine that there's a better version out there. The crispy, fluffy roti is served with a choice of mutton or chicken curry sauce.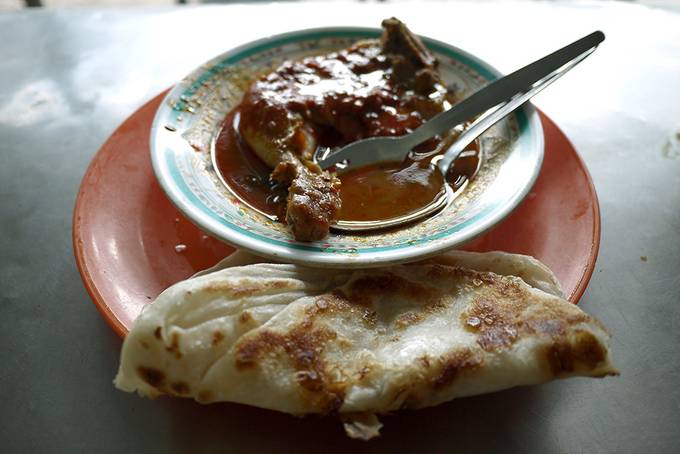 New Lane
The New Lane hawker stalls are the locals' favourites and another very popular dinner spot. We loved the wantan mee here, egg noodles, pak choi and wontons with a very dark sauce.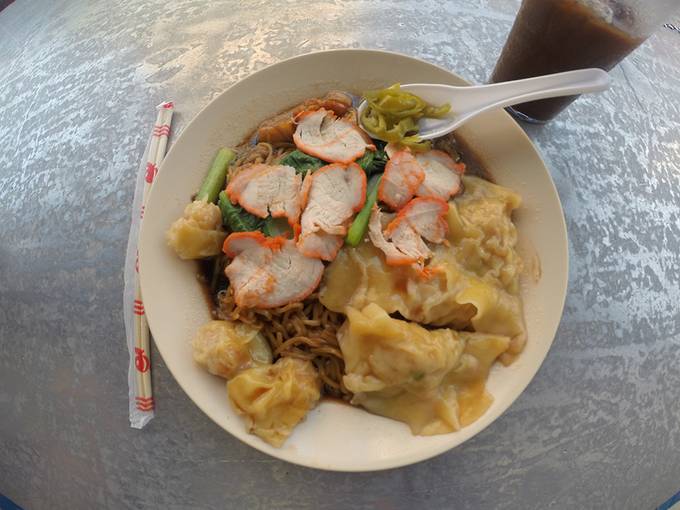 After a very large portion of wantan mee, we somehow found space for a few small apom pancakes filled with banana and coconut. Pancake fans will love these!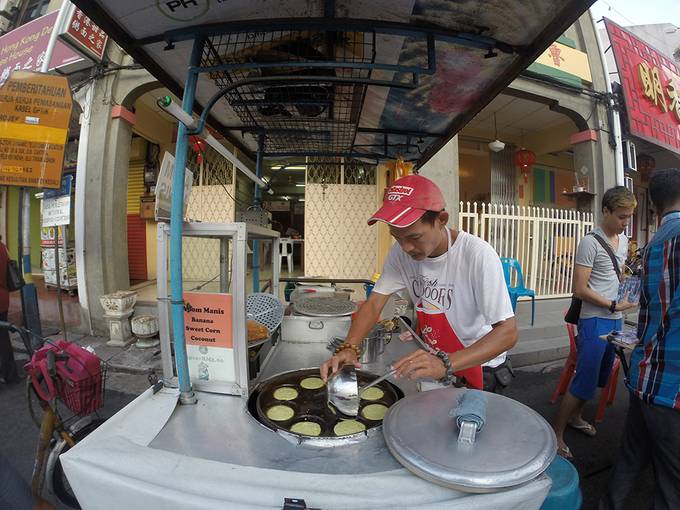 Penang Road
And finally, dessert! There are two rival cendol stalls opposite each other on Penang Road, but one had a queue along the whole street so it wasn't hard to figure out which is the best (check out that tub of green jellies!).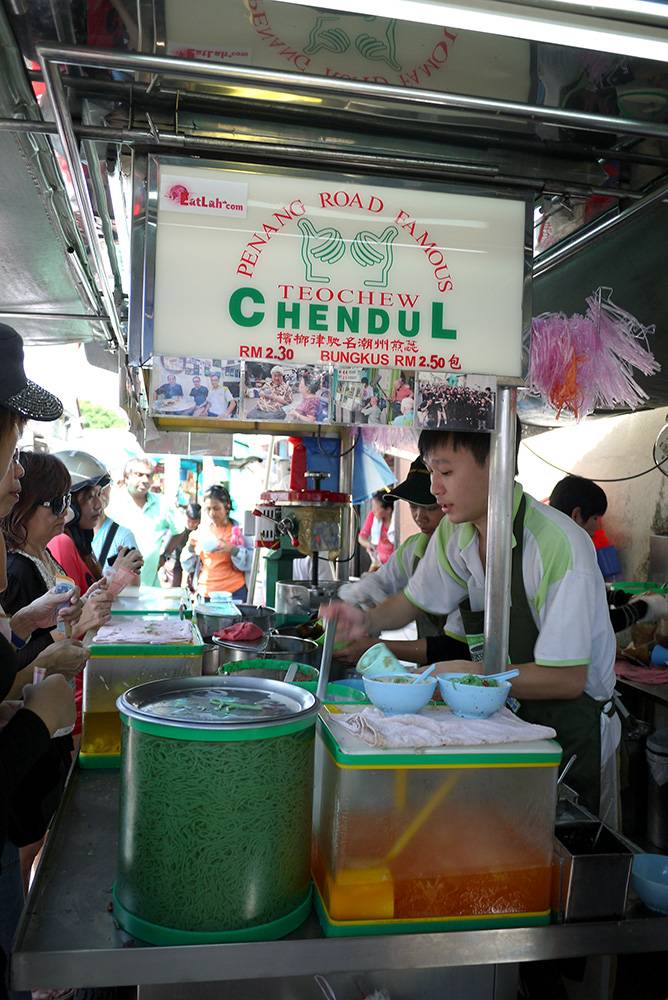 It was unbearably hot at this point, so Colin popped into the market opposite and picked up an essential Asian tourist item – a sunbrella. Casually fitting in with the locals, I'm sure you'll agree.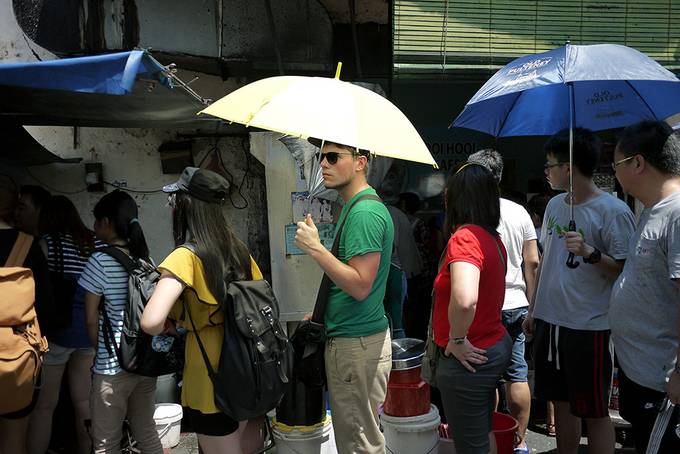 We went for Ais Kacang, a traditional dessert. This was an actual bowl o' cray: shaved ice, rose syrup, jelly pieces, red beans and sweet corn (yes, you read that right!). It was ... interesting ... definitely refreshing, but I prefer my desserts without beans and I couldn't really get past that.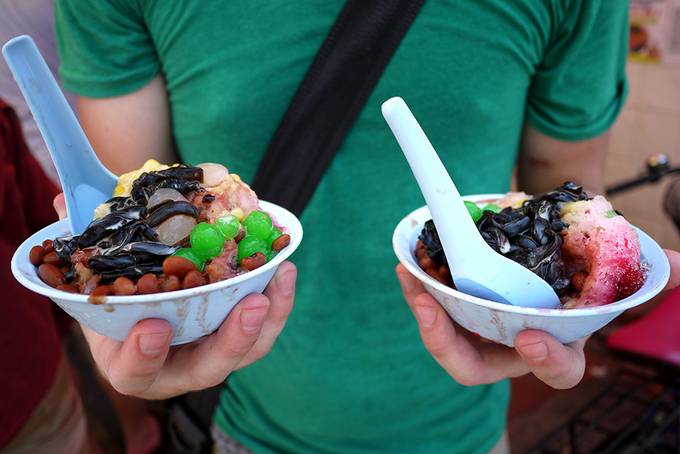 It's hard to believe how cheap the street food is in George Town (and Malaysia in general), most dishes cost around RM 5 (£1) and it was all delicious and freshly prepared. Hands down the best food of our trip so far.
For more about our time in George Town, have a look at these posts: Exploring Penang's clan jetties, Kek Lok Si temple & Street art in George Town.
—Yasmine