Oh Vietnam ... just typing the word makes my mouth water. Food is everywhere in Vietnam, there are street food vendors and stalls on every corner and people eating at all times of the day everywhere you look. Food is fast, fresh and loaded up with herbs and vegetables. There are hundreds of dishes, but here are some of my favourites:
Pho bo
First up is Vietnam's national dish, beef noodle soup. Pho is slightly different in the north and south of the country (the south's version has a richer broth and is what you will usually get if you eat pho outside of Vietnam), but wherever you are, you can expect a warming broth, rice noodles and lots of herbs. You then add extras, like chilli or lime, to taste. Go for pho bo tai, thin slices of rare beef that are cooked directly in the soup.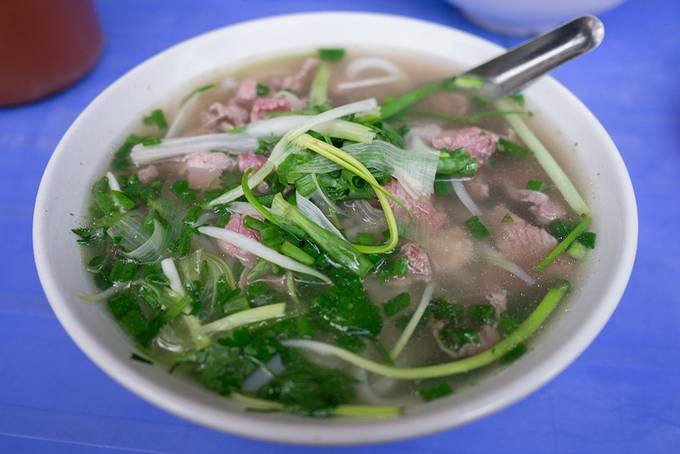 Banh mi
Banh mi is the ultimate sandwich. A small baguette is stuffed full of pate, herbs, chilli sauce, pickles and your choice of meat. There are banh mi stalls on every corner in Vietnam but quality definitely varies so it's worth asking around to find a good one or researching online.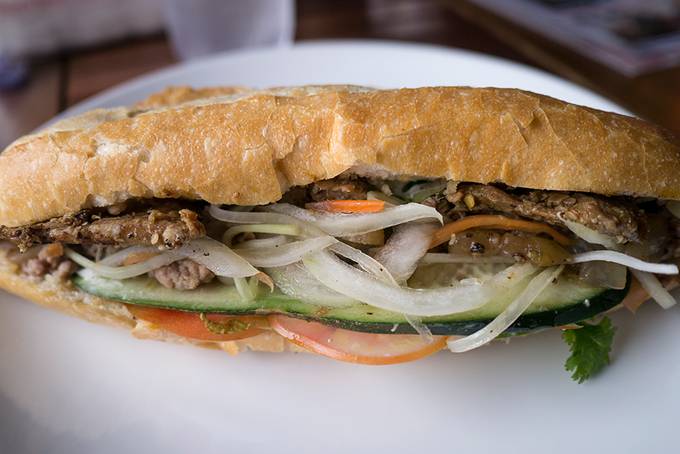 Bun bo nam bo
Recommended to us by our hotel staff in Hanoi, this instantly became our favourite Vietnamese dish. A light, sweet broth is loaded up with noodles, beansprouts, tender beef, herbs, pickles and peanuts. Flavours and textures are perfectly balanced, and it's both comforting and fresh. If you're in Hanoi, try it at 67 Hang Diei.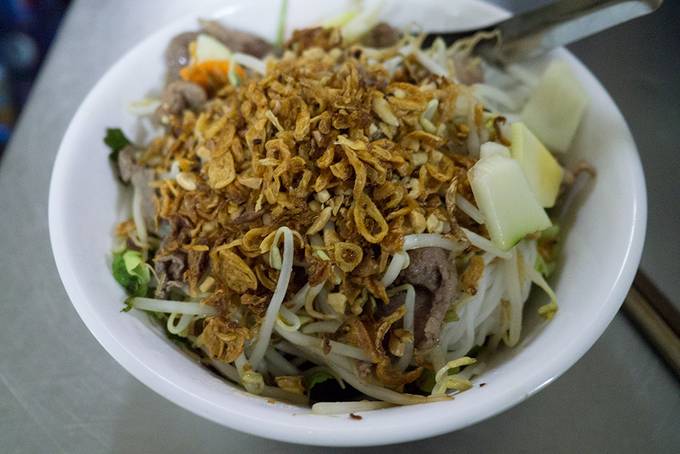 Goi cuon (summer rolls)
The perfect starter or snack, these rice paper rolls are full of vegetables, herbs and rice noodles, as well as your choice of prawns or meat. There are different dipping sauces, but the one we had most often was peanut-based.
Banh cuon
We used to eat this dish a lot in Vietnamese restaurants in London, but I can't believe how much better it is in Vietnam. Not everyone is into the texture (they are a little slimy), but if you like dim sum then this is for you. Finely diced meat or prawns are mixed with wood ear mushrooms and wrapped in a thin steamed rice sheet. The slimy texture is perfectly balanced with crunchy fried onions and coriander. You dip each one into a bowl of sweet fish sauce.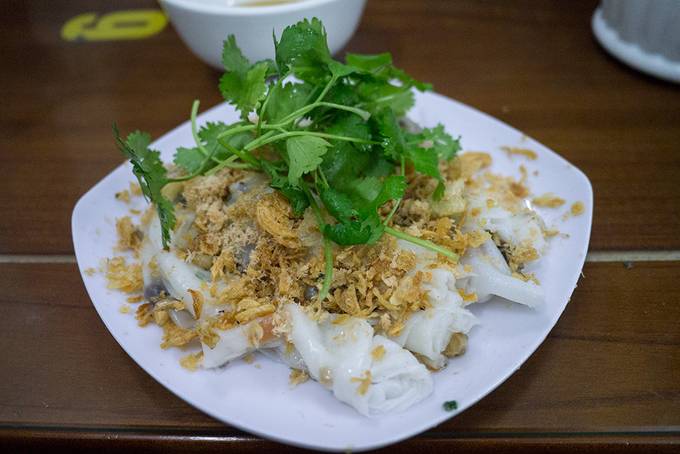 Banh bao vac (white rose)
More dumplings! These ones are a Hoi An speciality filled with prawns and topped with fried onions, they're more like traditional dim sum with a Vietnamese twist.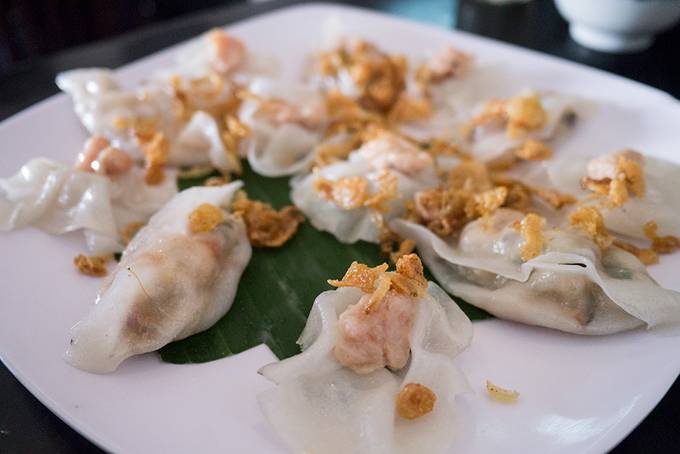 Vietnamese coffee
Whether you have it iced, black, hot or with coconut (and make sure you do have it with coconut at least once), Vietnamese coffee is great. It's made with a drip filter and tastes very strong, so I like mine with milk (which in Vietnam means condensed milk), sweet and delicious! Lots more info on how to order Vietnamese coffee here.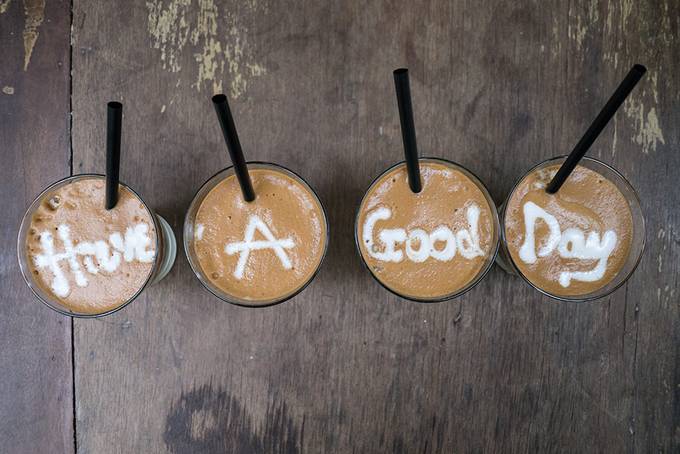 Bun thit nuong/bun cha
Bun thit nuong is what you'll find in the south and bun cha rules in the north. Both are rice noodles topped with grilled meat (in the south it's barbequed and in the north it's made into patties), crispy spring rolls, picked carrots and daikon, crushed peanuts and lots of herbs. Another Vietnamese dish that's as much about texture as flavour.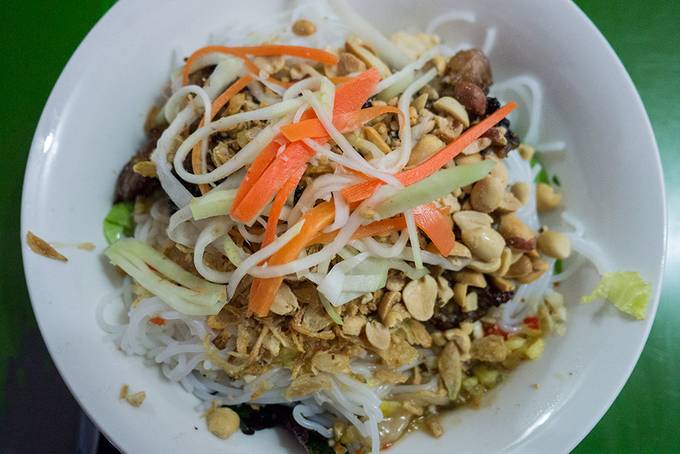 Com ga hoi an
I love the simplicity of chicken and rice, it's one of my go-to dishes while we've been travelling. But this Hoi An speciality is a step up, as well as moist chicken and perfectly seasoned rice, sliced onions, peppermint and chilli jam give this dish some extra punch. Best chicken and rice ever!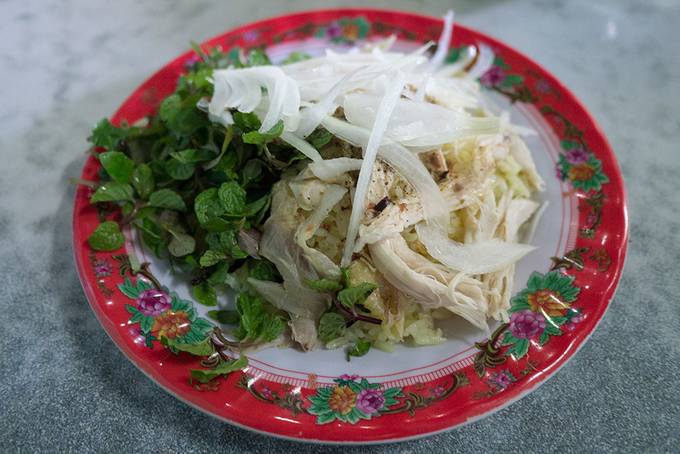 Banh troi nong
We didn't try many desserts in Vietnam, but this one was great on a cold day. The fiery ginger sweet "soup" (as it was described to us) contains big mochi-like sweet rice balls and topped with crushed nuts. Just what you need if you find yourself in Hanoi in winter.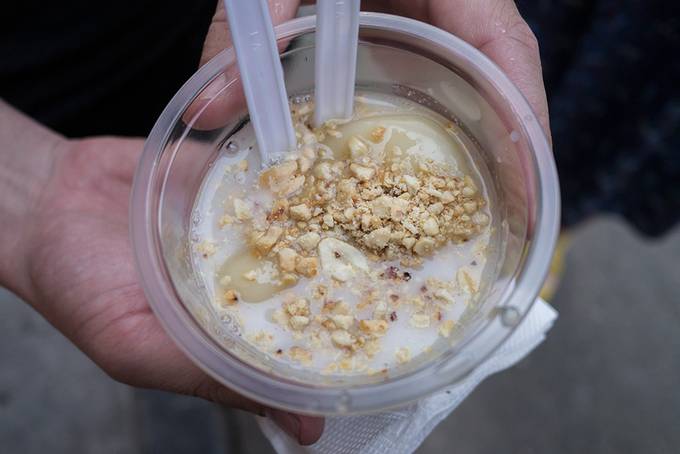 Most of these dishes were from food stalls or restaurants with roadside kitchens. Food hygiene is good in Vietnam, so grab a tiny stool and eat on the street.
You can read up on what we got up to when we weren't eating in my Vietnam posts.
—Yasmine