The Edinburgh International Film Festival
A couple of weeks after we got home, Festivals Edinburgh invited me to go back up to Scotland for the Edinburgh Film Festival. It was a fun 3 days of screenings, events and exploring film locations around the city.
Edinburgh International Film Festival
The Edinburgh International Film Festival celebrated its 70th anniversary this year and it shows a whole range of films, from features and documentaries to shorts.
I arrived with half an hour to get from the train to the red carpet, and after a tornado of ironing and make up I arrived at the Festival Theatre. It only shows films during the festival, so it was a real treat to spend the evening there.
The Opening Gala was also the premiere for God's Own Country, a moving British drama set in the Yorkshire Pennines. I loved it, and it was fun to hear the director, Francis Lee, speak beforehand, his family cheering from the stalls.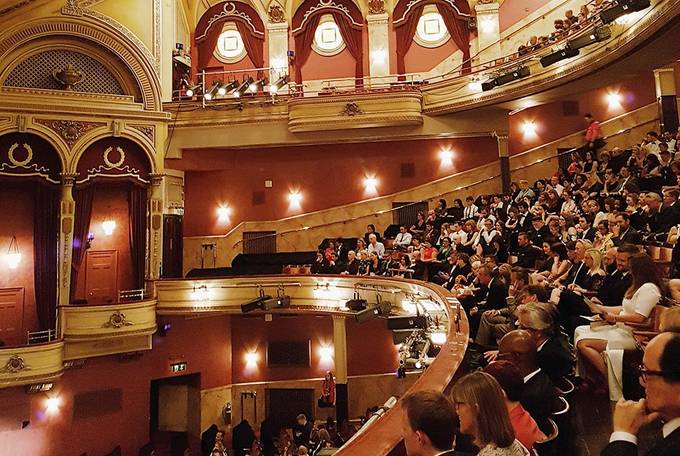 After the film we went to the National Museum of Scotland. This has to be one of the most beautiful buildings in Edinburgh – that light! There were drinks and themed canapés and a band and everyone was in black tie.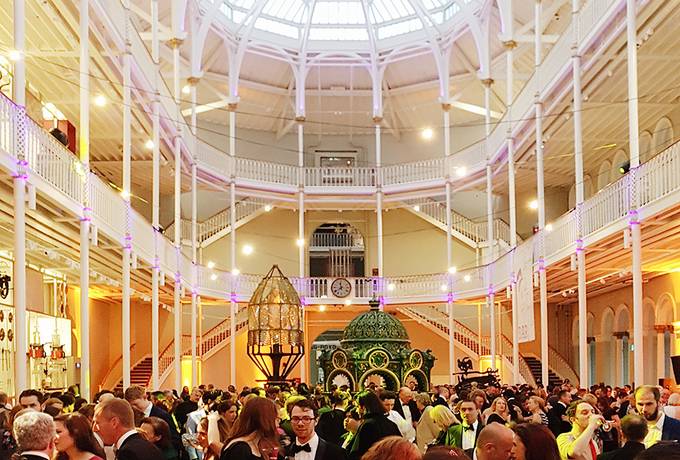 The next screening was a good one too – Shaun of the Dead at The Biscuit Factory, an arts hub that's often used for pop ups. I dodged a zombie out front, got handed a survival kit in a brown paper bag and settled in to watch the film. I forgot how funny it is and the zombies wandering around made it even scarier.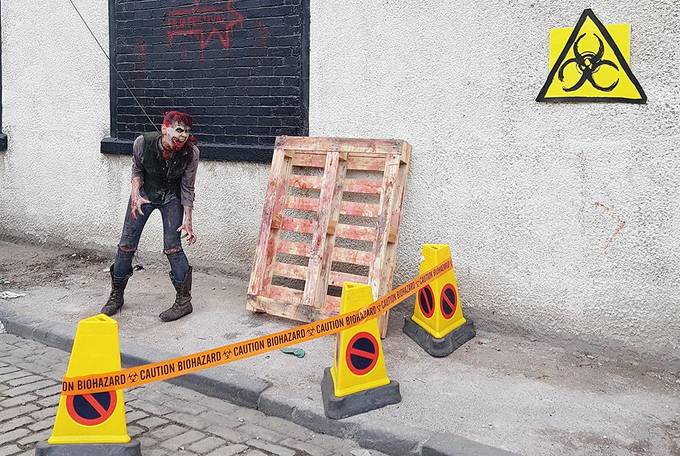 On the last day I saw a mixed bunch of British shorts (my favourite was about a girl with ME who had imaginary miniature horses as friends). And then ran straight to a screening of The Woodsman followed by a Q&A with Kevin Bacon and Kyra Sedgwick. I'd never seen The Woodsman before, an interesting and complicated story of a paedophile trying to rehabilitate after spending time in prison.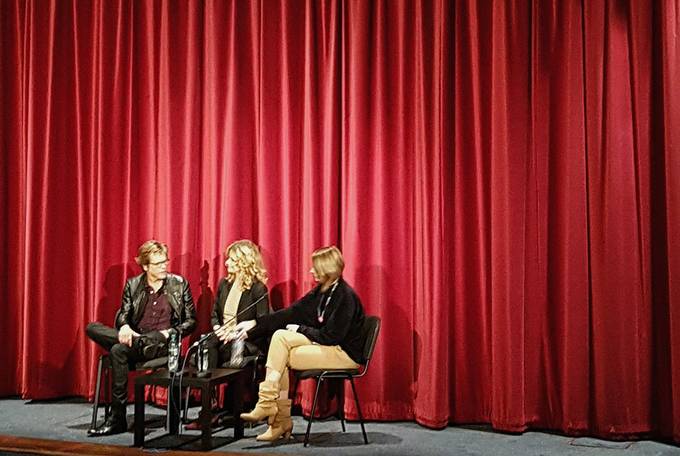 Film locations around Edinburgh
When I wasn't watching films, I spent my time walking around. There have been film scenes shot all over Edinburgh and it's a fun way to explore the city. This is Edinburgh have a handy map with them all marked.
Princes Street
In the heart of the city centre, the area around Princes Street has been used as a location for so many films, from Trainspotting to Cloud Atlas. There are great views of Edinburgh's architecture and the castle from the gardens too.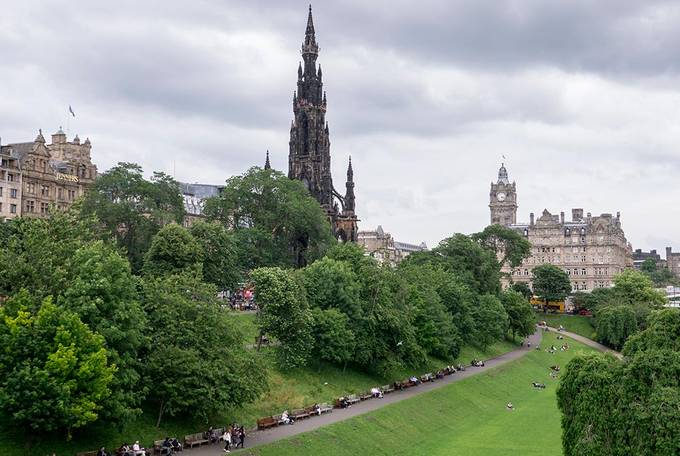 Edinburgh Castle
Edinburgh Castle is a historic fortress perched on an extinct volcano looking over the city. It's huge inside and there's loads to explore. It's been a location for scenes from Filth, The Debt Collector and Death Defying Acts.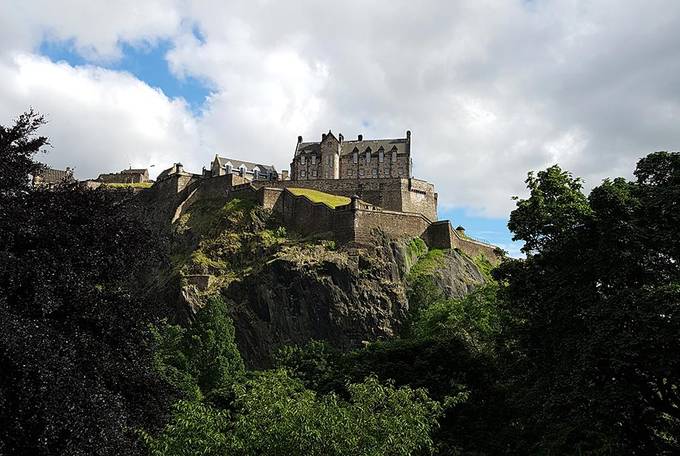 Victoria Terrace
I think Victoria Street might be the prettiest street in Edinburgh (which is probably why it's used so much in films). It's lined with colourful boutiques and cafés, and if you climb up to Victoria Terrace you get an even better view.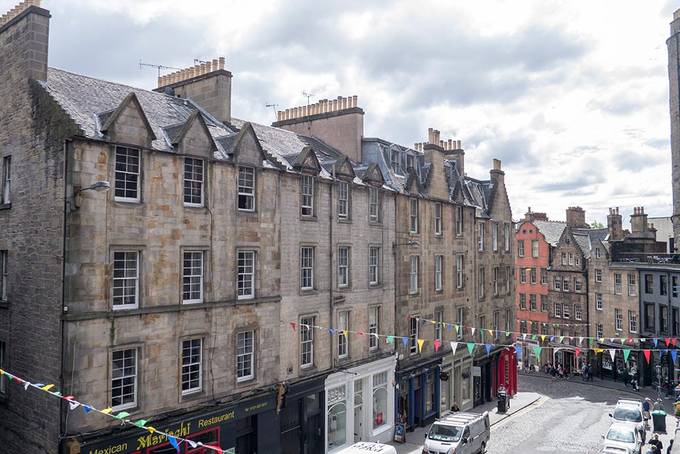 Arthur's Seat
For the best views of Edinburgh, climb up to Arthur's Seat, an ancient volcano that overlooks the city. There are easy and more difficult routes (I took the more difficult one by mistake and thought I was going to get blown off!). It's the location for scenes from: One Day, Chariots of Fire and The Illusionist.
Scotland Street
Scotland Street is where the opening sequence of Danny Boyle's Shallow Grave was shot. It's in the city's New Town (which was actually built in the 18th century!) and is a lovely place to wander, full of Georgian architecture and independent shops and restaurants.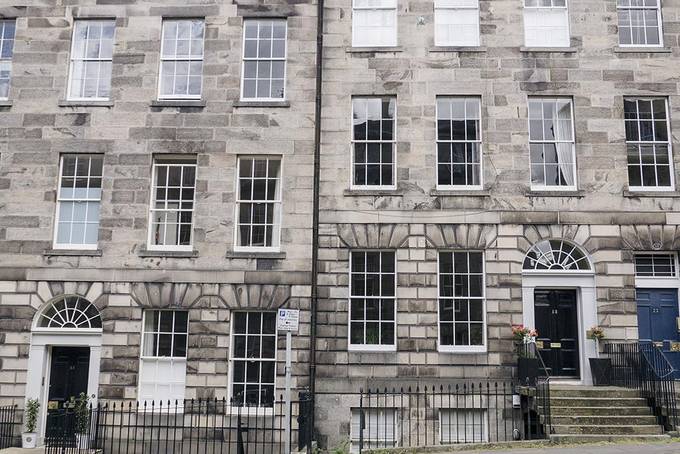 I had no idea that there were so many festivals in Edinburgh, as well as the Fringe, there's also books, science, art and so many more. I'm already planning to go back next August.
Thank you Festivals Edinburgh for inviting me!
—Yasmine