Beyond Oaxaca: three day trip ideas
Oaxaca itself is fairly small, but there are lots of great day trip options close to the city. It's surrounded by indigenous villages, mountains, waterfalls and ancient ruins that are all fairly easy to get to using public transport or taxis. Here are three we enjoyed during our month in the city:
Monte Alban
After Chichen Itza, I wasn't expecting too much from Monte Alban, but it was a completely different experience. There weren't many tour groups (or at least it was so big that it felt like there weren't many), and with great views of the surrounding mountains and lots of places to climb up, it was a really fun place to explore. This was my favourite day trip we did in Oaxaca, it really is an incredible place to visit.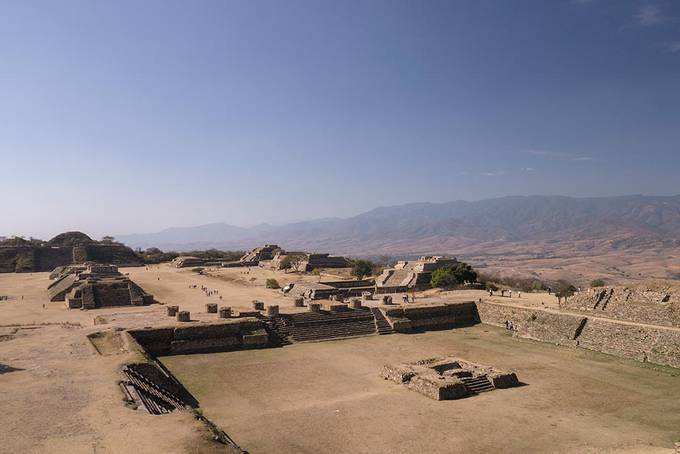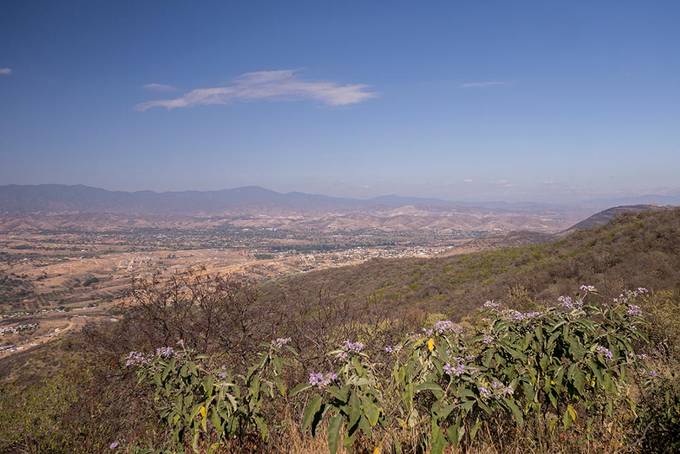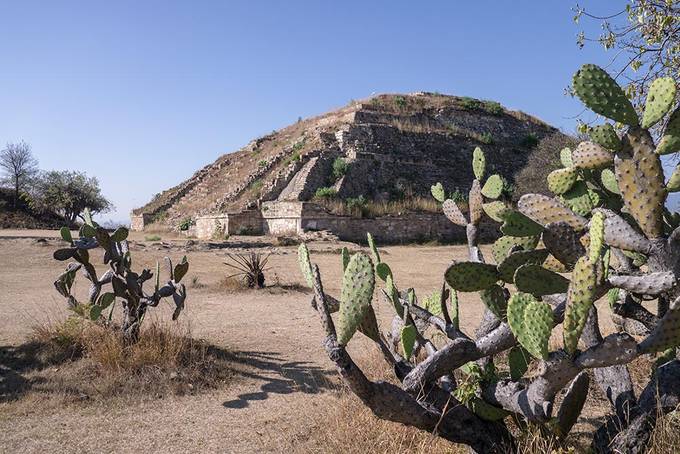 To get there, take a minibus from the travel agency inside Hotel Rivera de Angel. They leave every half hour from 8:30 am and cost M$60 for a return. You'll be dropped off at the car park at the entrance, where you can catch the return bus back to the city once you're done. It gets super hot and there's no shade, so it's a good idea to go first thing.
Tlacolula market
This is one of the best markets I've been to. Every Sunday people from the villages around Oaxaca make their way to Tlacolula to sell produce from their farms, embroidered clothes and handmade ceramics. Stalls line the streets surrounding the central food hall and the market spreads out over most of the town.
If your Spanish is good enough you can buy meat and vegetables from the vendors and grill them yourself. Or if, like us, that seems a bit too difficult to communicate, there are plenty of easier things to try. We went to two stalls and tried squash blossom and quesillo (local Oaxacan cheese) quesadillas and memelas with salsa, which was one of the best things we've eaten in Mexico.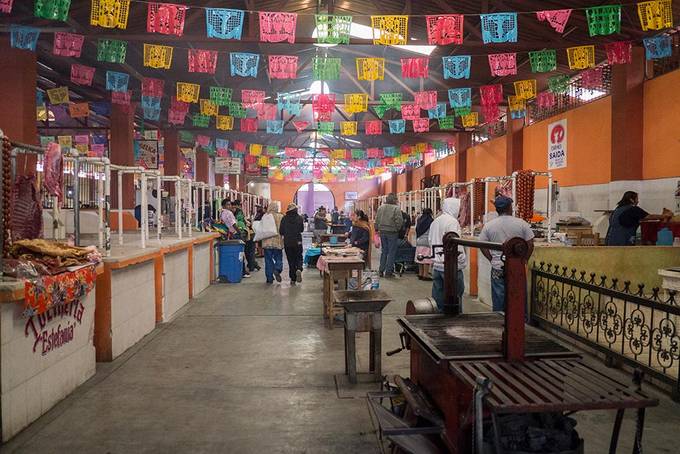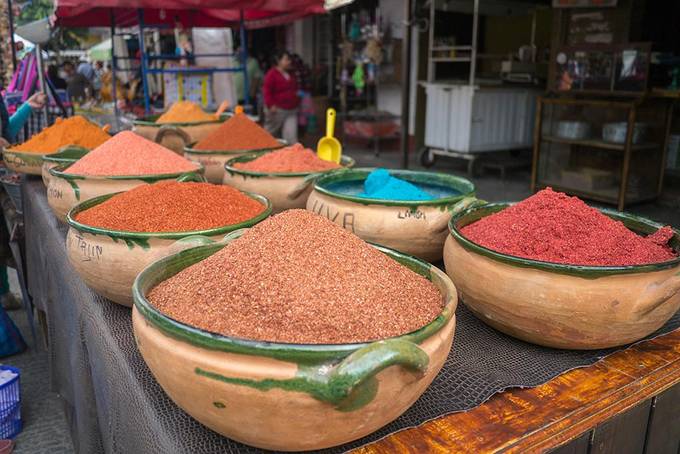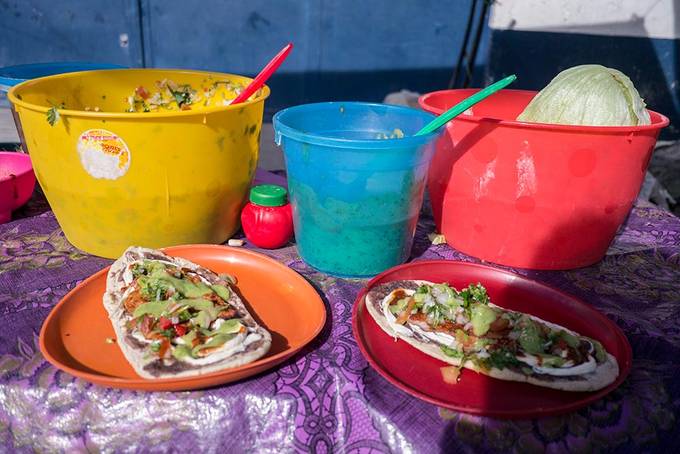 To get there, take a collectivo (shared taxi) from Oaxaca (more info and a map here). You'll squeeze in with five other passengers (two in the front and three in the back) and the 30 minute journey costs M$20. Head back to the main road to catch one back to the Oaxaca.
San Agustín & Villa de Etla
There are three Etlas just outside Oaxaca: San Agustín Etla, with an impressive art gallery; Villa de Etla, with a weekly market every Wednesday; and San Sebastian Etla, where we spent a month in this lovely airbnb.
We visited the other two Etlas on separate days but they're close so you could easily combine them into one day trip from Oaxaca.
The Centro de Artes de San Agustín, an art school and gallery, was founded by Franciso Toledo, a famous Oaxacan artist and activist. It used to be a textile factory and the building has lots of interesting features and a great view.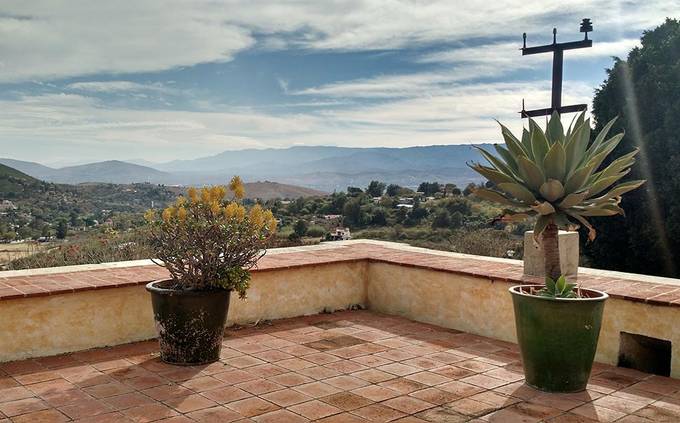 Across the main road in Villa de Etla is another market, like the one in Tlacolula, but smaller. Unless you love markets or you're in Oaxaca for a while, it might not be worth visiting both, but Etla market is a good alternative if you're not in town on a Sunday. It's known for its barbacoa (barbecued lamb) and we had a fiery consomme with tender meat and fresh tortillas at one of the stalls in the food hall.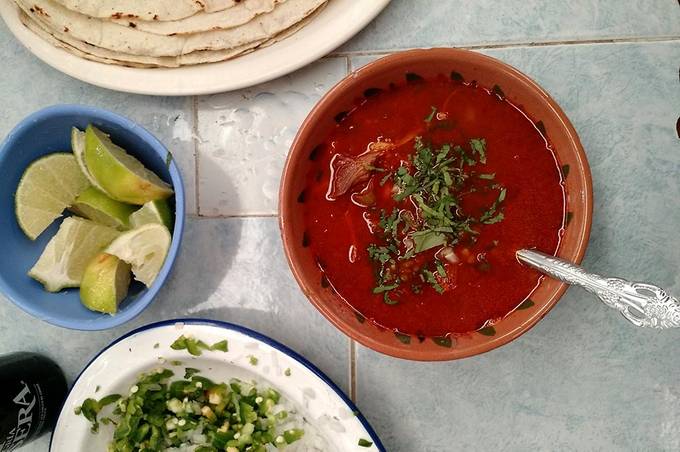 To get there you can take a collectivo from Oaxaca, but it would be better to take a taxi or private driver to get between the two villages.
Other day trips that I wish we'd had time to squeeze in: Hierve al Agua, a rock formation and mineral spring, and the Árbol del Tule, one of the oldest and largest trees in the world.
For more on Oaxaca, take a look at my posts on things to do in the city and the best coffee shops and street art.
—Yasmine