As we neared the end of our four years of travelling, driving through the Atacama Desert in Chile, we talked about our favourite places. We narrowed our top fives down to top threes, and somewhere we kept coming back to was Orkney.
Orkney is an archipelago off the north coast of Scotland made up of 70 islands, 20 of which are inhabited, and we stayed on the largest island ('the mainland') for a month last year. To get there we took the evening ferry from Aberdeen, gripping the walls of the boat to steady ourselves as waves splashed against the windows. We arrived at midnight, the whole island dark.
The next day, when the sun was shining and we walked around our new village by the sea, it felt remote and different in a way I've never experienced in the UK. Orkney feels far away. Life is slow paced and self-contained. Orcadians say 'down south' when they talk about Scotland. And when you visit the smaller islands and return to the mainland, suddenly even that feels too busy (and I'm from London).
Something that stood out is the strong sense of community. No one locks their doors when they go out. Going to miss the ferry? Just call down to the port and ask them to hold it for you. People park up outside Tesco, their engine on, key in the ignition and doors unlocked while they do their shopping. There are community centres and concerts and walking groups, jumble sales and tiny volunteer-run museums and quiz nights. Island life isn't always easy, particularly in winter, and people look out for each other.
St Margaret's Hope
We stayed in St Margaret's Hope, a small village on South Ronaldsay, an island linked to the mainland. It's surrounded by countryside on a quiet bay, but it has the basics: a cafe, a shop, a post office, a pub (which serves hand-dived scallops and has a photograph of the man who dives for them on the wall) and a travelling chippie every Friday evening. There's also a small knitwear shop where I bought some slippers made with wool from sheep down the road.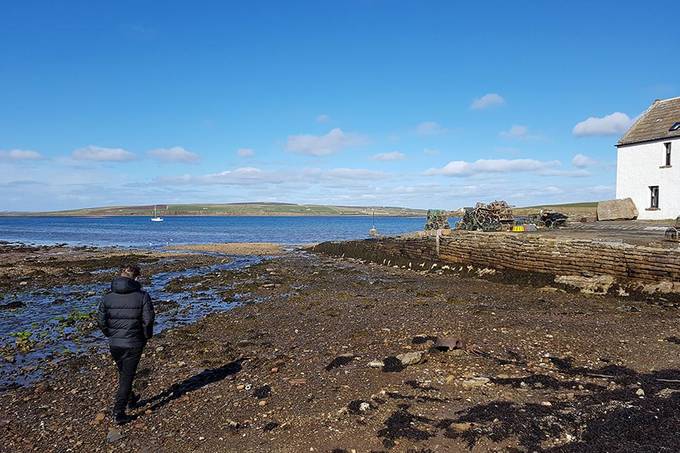 Our favourite walk
We went out walking each weekend and this loop through the countryside was our favourite. There's almost always a view of the sea and you'll stop at two beaches, beginning and ending in St Margaret's Hope.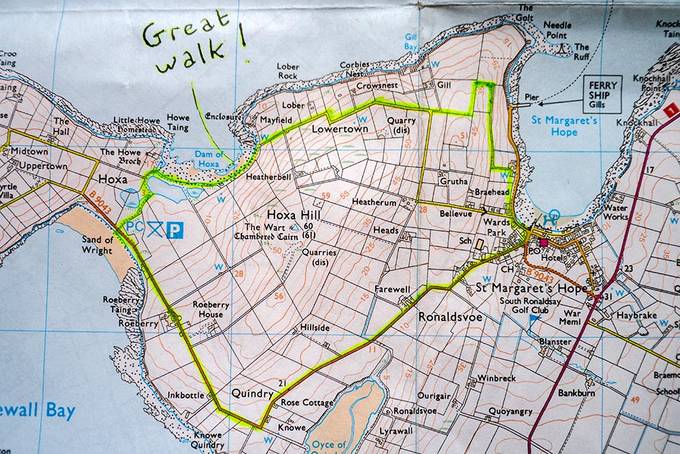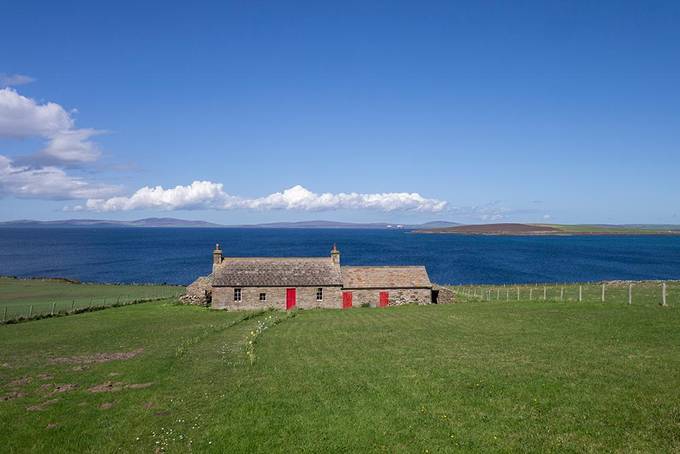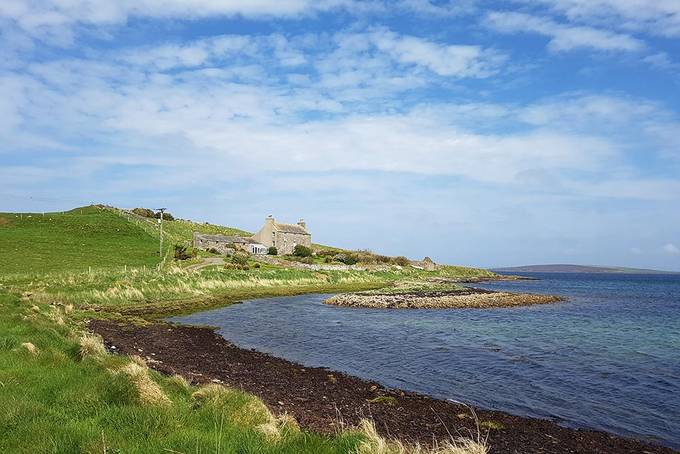 Hoxa Head
Hoxa Head is also within walking distance from St Margaret's Hope. The Balfour Battery, an old artillery site that was used to protect Scapa Flow from German submarines in World War 2, feels eery, particularly when there's no one else around. There's a circular cliff top walk and a tea room with sea views at the end.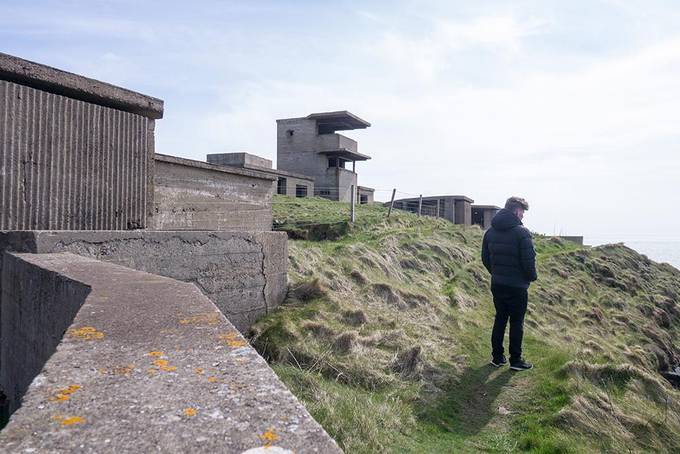 Sands of Wright
Another spot close to St Margaret's Hope. Each morning we went running passed fields of lambs to the Sands of Wright, a white sand beach that was always empty. It was glorious. There's a small area for camping and some basic facilities.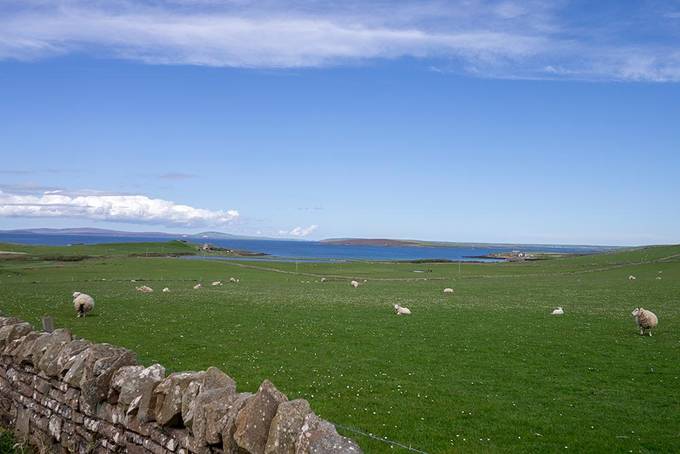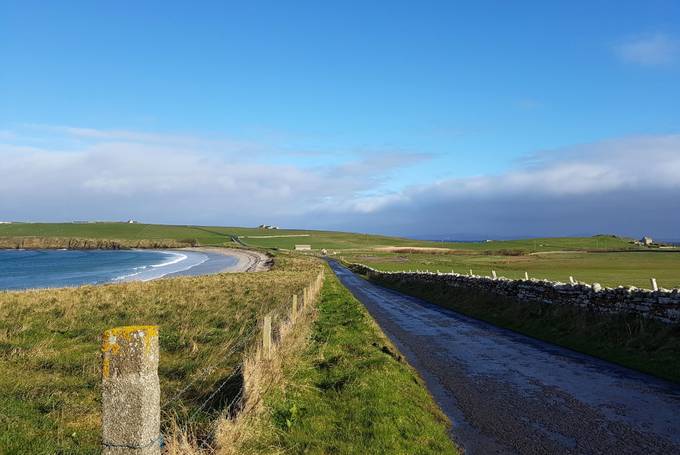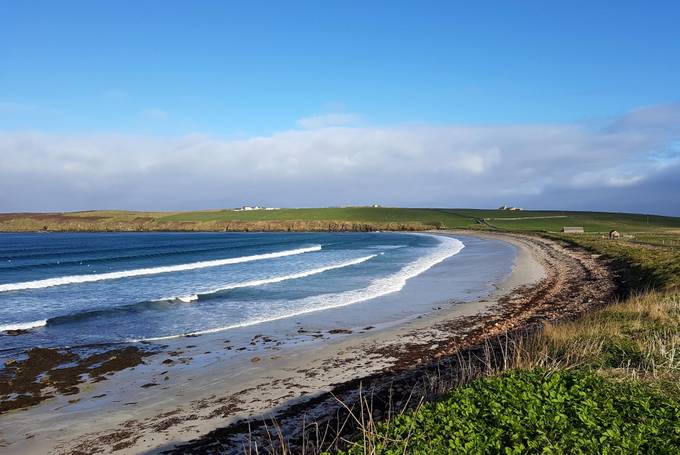 Stromness
If you're coming to Orkney without a car, Stromness is a good place to stay. Buses to different parts of the mainland pass through and there's a small port with ferries to the other islands. It's also charming, with stone cottages and cobbled streets, sea views, independent shops and cafes, an art gallery and a small history museum. And there's a folk festival in Stromness every May that we're hoping to come back to one year.
Ring of Brodgar
Orkney was first inhabited by Mesolithic and Neolithic tribes and there are lots of archeological sites around the island (there was a BBC series on this if you're interested). The Ring of Brodgar is one of the oldest stone circles in the UK built between 2500 and 2000 BC. When we visited in April we were lucky enough to have the whole site to ourselves.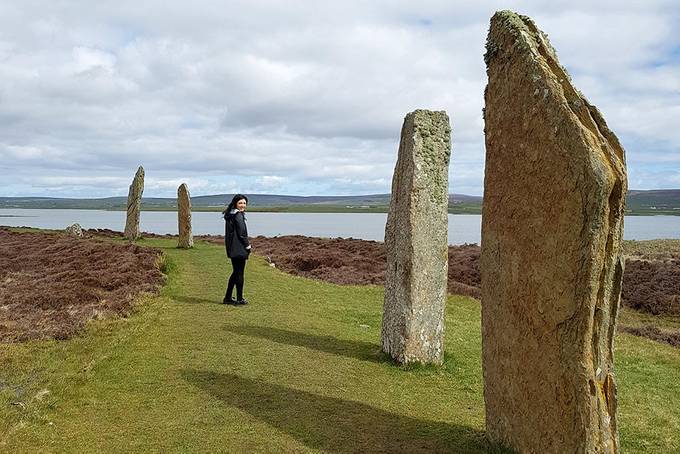 Kirkwall
This is the biggest town on the island and you'll inevitably find yourself passing through at some point; it's the main transport hub. While it doesn't have the same charm as Stromness, there are plenty of amenities and St Magnus Cathedral (built in 1137 when Orkney was ruled by Norse Earls) and the Orkney Wireless Museum are worth visiting.
Scapa Distillery
Walking distance from Kirkwall, Scapa Distillery offers guided tours with lots of interesting information about their process and the area. And just outside is a footpath leading down to another beautiful beach.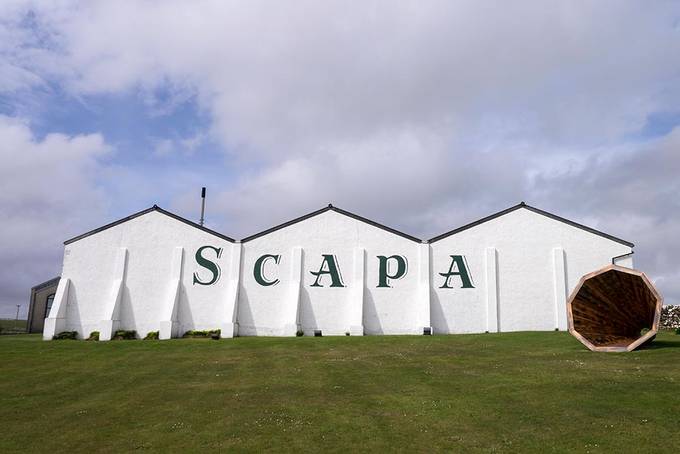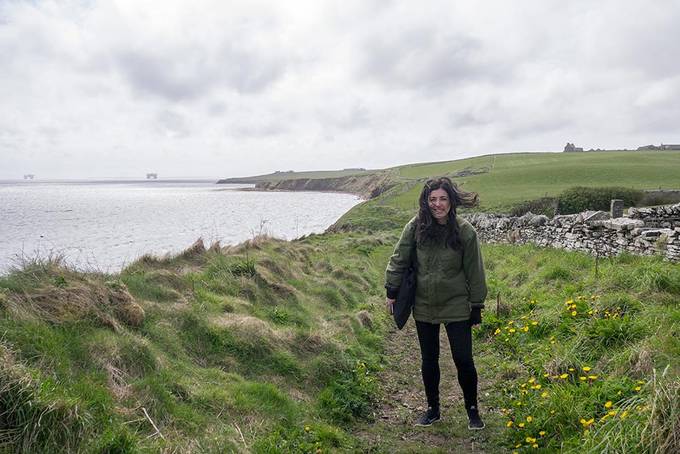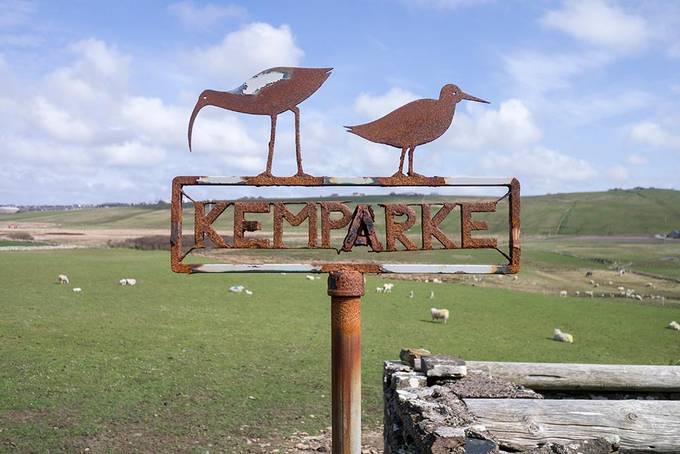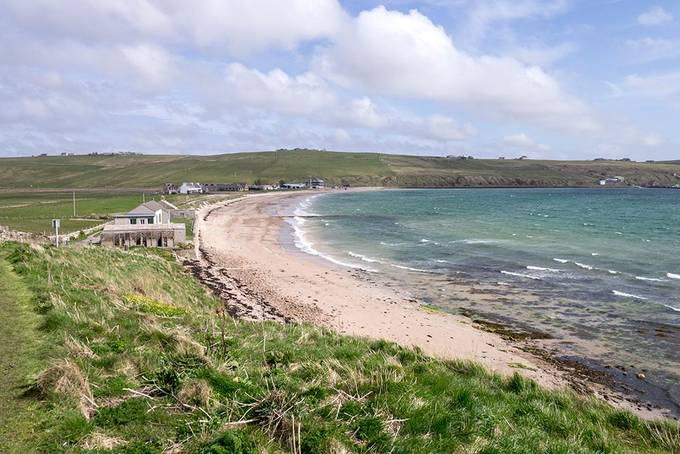 Day trips
One of my favourite parts of our month in Orkney was getting the ferry to a couple of the smaller islands, Hoy and Westray. We loved them both. You need to plan in advance as the ferries don't run every day. I'll be writing more about these soon.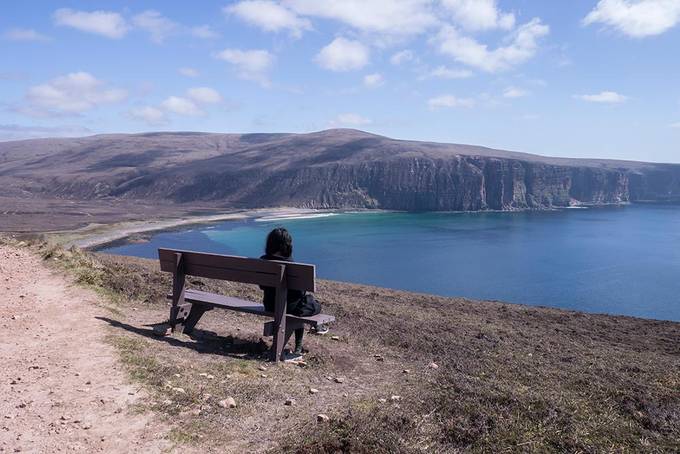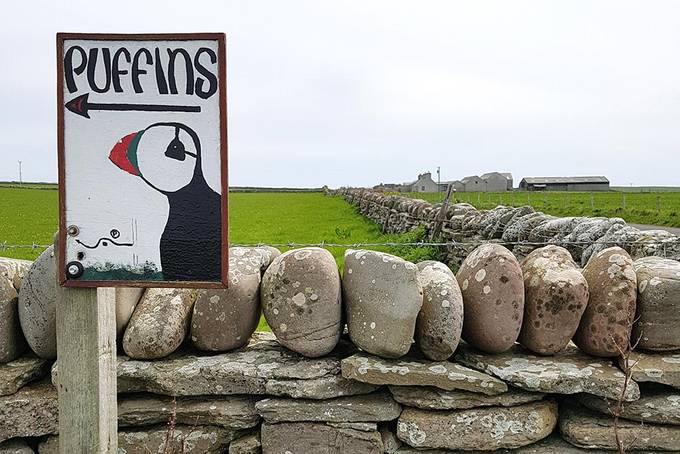 Getting around
The best way to travel around Orkney is by car as some places are difficult to get to using public transport. When we visited the islands were fairly quiet but hire cars were still all booked up, so book in advance if possible. Cycling is popular too but be warned that Orkney is very windy! So we mostly used the bus. Unlike other parts of the UK (ahem, London), getting the bus in Orkney is a joy. The buses wind through the countryside, passed turquoise water and fields of sheep, and the bus driver will stop you as you get off to make sure you know where you're going.
When to go
We visited for a month at the end of April and it was quiet and the weather was good. July and August get very busy, but I bet autumn would be lovely.
In case you missed it, I've also made a video about our time in Orkney.
—Yasmine